In Greek mythology, Mount Olympus was the home of the Olympian Gods and it was created after the Titanomachy, the battle during which the Olympians defeated their predecessors, the Titans. In this edition, we get to know Royals as Olympian Gods.
[mention]Maleficent [/mention]as Hera (Ἥρᾱ), Greek Goddess of Marriage and Queen of Olympus
Hera is the goddess of marriage, children, familial love and married women. She is the daughter of Kronos and Rhea, and the sister and final wife of Zeus, and thus the Queen of Olympus. Cow and peacock are her sacred animals and pomegranate is one of her symbols. She ruled over the heavens and the Earth even before she married Zeus. This is one reason why she is referred to as 'The Queen of Heaven'. Hera is a very jealous goddess. She is easily angered and can be offended easily. Her throne, chariot, and sandals are all made of gold. She gets mad and turns peoples' hair into serpents when ever they boast about their hair being more beautiful than Hera's.
[mention]Dani[/mention] as Aphrodite (Ἀφροδίτη), Greek Goddess of Love, Beauty & Eternal Youth
Aphrodite is the Goddess of, love, beauty, pleasure, desire and lust. Two different stories explain the birth of Aphrodite. According to the more prominent story, Aphrodite rose from the foam of the sea. However, according to Homer, in Iliad, Aphrodite may instead be the daughter Dione (Goddess of the nymphs) and Zeus. Her most prominent symbols are sea shell, dove, mirror and magic girdle. Even though she is only the goddess of love and beauty, she is one of the most powerful Olympians, because she has control over looks, love, and lust. She's a vain goddess, proud of her looks and disdains ugliness. She is shallow, arrogant and jealous. Aphrodite is also faithless and has had relationships with many gods. She can make anyone fall in love with anyone. Often depicted as a beautiful young woman, in revealing clothes.
[mention]TOP SHELF LIQUOR[/mention] as Poseidon (Ποσειδων), Greek God of The Sea
Poseidon is the god of the sea, earthquakes, droughts, floods, water, aquatic creatures, marine weather and horses. He held sway over the seas and waters, and is particularly known for causing tempests. Poseidon is also the patron of seafaring. One of his cult titles, Enosichthon, means "earth shaker", referring to his role in causing earthquakes. His symbols are the trident, with which he raises the waves and causes tides, and the bull, which is as aggressive as him. He is also called the "tamer of horses", as he created the first horse from the crests of the waves. His Roman counterpart is Neptune.
Raven as Athena (Αθηνη), Greek Goddess of Wisdom and War
Athena is the goddess of wisdom, mathematics, strength, inspiration, civilization, the arts, reason, skill, and war. Her symbols are owl, crow , olive tree, helmet, armor, spear and aegis. She's a patron goddess of arts and crafts, like metalworking and weaving. As goddess of wisdom, she offered wise counsel and helped promote civilization, law, order and justice. She inspired artists to produce the finest arts. The Athenians believed her to be resourceful and having forethought and memory. As goddess of war, Athena did not advocate mindless violence. Instead she was involved in battle stratagems, superior troops, courage, strength, skills and weapons. She granted victory to those who deserved it and was a patron for heroes, such as Heracles (Hercules) and Odysseus. On the darker side, she could also be vengeful, ruthless and arrogant and couldn't stand it if someone dared to prove her inferior. Athena was born from Zeus after he experienced an enormous headache and she sprang fully grown and in armour from his forehead.
[mention]p.Lo[/mention] as Apollo (Ἀπόλλων), Greek God of the Sun, the Light, the Music and Prophecy
Apollo is god of the arts, music, healing, purification, prophecy, oracles, plague, poetry, civilization, the sun, truth, intelligence, logic, reason, light, archery and medicine. He has a twin-sister, Artemis and his parents are Leto and Zeus. He is famous for his oracle at Delphi. People traveled to it from all over the Greek world to divine the future. Apollo's symbols include laurel wreath, lyre, bow and arrows, myrtle and the sun.
[mention]Angela Merkel[/mention] as Artemis (Ἄρτεμις), Greek Goddess of Wilderness, Wild Animals, the Moon and Archery
Artemis is goddess of the hunt, wild animals, wilderness, childbirth, virginity and protector of young girls and bringing and relieving disease in women. She's often depicted as a huntress carrying a Bow & Arrows. She's one of the most respected of the Greek deities. Her symbols include a deer, wolves and cypress. It is thought that her name, and even the goddess herself, may even be pre-Greek. She has a twin-brother, Apollo, her parents are Leto and Zeus.
[mention]Prince Oberyn[/mention] as Demeter (Δημήτηρ), Greek Goddess of Agriculture, Fertility, Nature and Harvest
Demeter is the goddess of agriculture, the harvest, nature and fertility. Though Demeter was often described simply as a goddess of harvest, she also presided over the sanctity of marriage, the sacred law, and the cycle of life and death. She and her daughter Persephone were the central figures of the Eleusinian Mysteries. Demeter's physical appearance is somewhat affected by the harvest. Under the most prosperous time of the year, she appears as a beautiful goddess with all her godly powers of eternal youth and immortality very evident. During the fall and winter, she can take the form of an older woman, but one still in command of her full power. In the spring and summer, she returns to her true condition. When her virgin daughter, Persephone, was abducted by the god of the underworld, Hades, Demeter endlessly searched for her, preoccupied with loss and grief. The seasons halted and living things stopped growing and died. At this point, Zeus had to intervene and send his messenger Hermes to the underworld to bring Persephone back and prevent the extinction of all life on Earth.
[mention]La Stupenda[/mention] as Dionysus (Διονυσος), Greek God of Wine and the Grape Harvest
Dionysus is the god of vine, grape harvest, winemaking, wine, ritual madness, religious ecstasy, and theatre. He invented wine and spread the art of tending grapes. He was later considered a patron of the arts. He has a dual nature: on one side he brings joy and divine ecstasy, on the other side he wroughts brutal, unthinking rage. Symbolically, his nature reflects the effects of inebriation. If he so chooses, Dionysos could drive a man mad. His symbols include grapevine, leopard skin, leopard, panther and tiger. He may have been worshipped as early as 1500-100BC by Mycenean Greeks according to very old scripts inscribed with his name.
[mention]Cashmere[/mention] as Hades (ᾍδης), Greek God of the Dead, Riches and King of the Underworld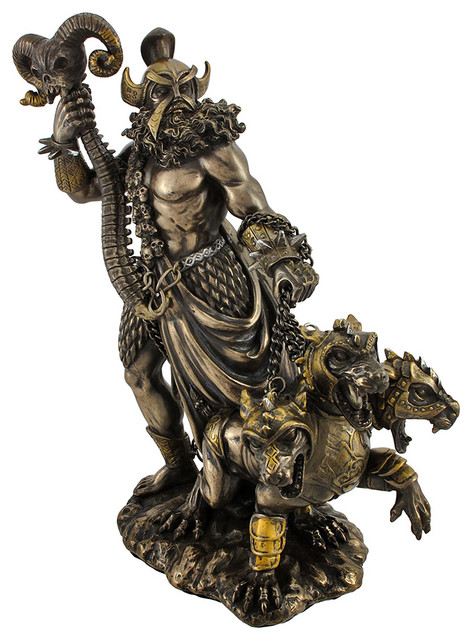 Hades is god of the dead, riches and King of the Underworld. He's one of the most powerful Greek gods, rivaled only by his brothers, Zeus and Poseidon. He rules the Underworld and has control over the dead and riches (metals and precious stones), and as such has some power over the earth. He possessed a powerful helmet which rendered him completely imperceptible to most beings. Hades also inspired so much fear, that he could drive humans insane just by his mere presence. It is also noted that Hades had control over darkness. Hades' symbols include the screech owl, cerberus, pitchfork, cypress tree and helmet of invisibility.